Contribute to support more positive local storytelling.
Support
Come and hang out closer to our planet. Take a glimpse of what it's like to be two or three years old again. When meanings around the way things are are mysterious, and understanding what's 'correct' and 'orderly' is as obscure as anything else. —
"Hey Dotti, let's take some photos?!" "NOT YET!" Toddler-aged voices are underrepresented in popular culture today and, now, I understand why. They are foot-stamping rebels without a cause at the best of times. Small tyrants who don't ever like being told what to do. Suspicious of everything… "YUCK!" (the standard first response to any food offered). And effortlessly belligerent… "NOT YET!" (Dotti's shouted response to any question — even to patient, well-intended questions, such as 'What should we do today?'). Two- and three-year-olds are also achingly sweet. "I love you Mummy," comes at me with a snotty, spitty face plant to my cheek. And they're funny, "Look I'm a caterpillar in a rocket ship!" Toddlers are whole people, just in little bodies. They need lots of help with learning the ropes but they can teach us a thing too. Give us lessons on confidence, not caring what others think, being blissfully lost in the moment, laughter, curiosity, being strong-minded, being assertive problem solvers and taking on the world one foot stamp at a time. This ad hoc adhocacy of toddler photography captures a perfectly normal view of the world that we just grew up out of. To re-enter this unique perspective at any time, you must now stand on your head, sit under a table, lay in the grass or jump on the bed. And when anyone asks you to do something you're not ready to do, look them squarely in the eye and shout "NOT YET!!!".
Nina Penwell
Three years old, Goongerah. —
"It's a rockmelon picnic. What's inside the tent do you think? We should look".
Ali Wood
Three years old, Buln Buln East. —
"Guitar stands in
stand
. Daddy do you want a grape?"
Dotti Cook
Two years old, Paynesville. —
"It's a bug at the top".
Ali Wood
Three years old, Buln Buln East. —
"Finger. Thumb".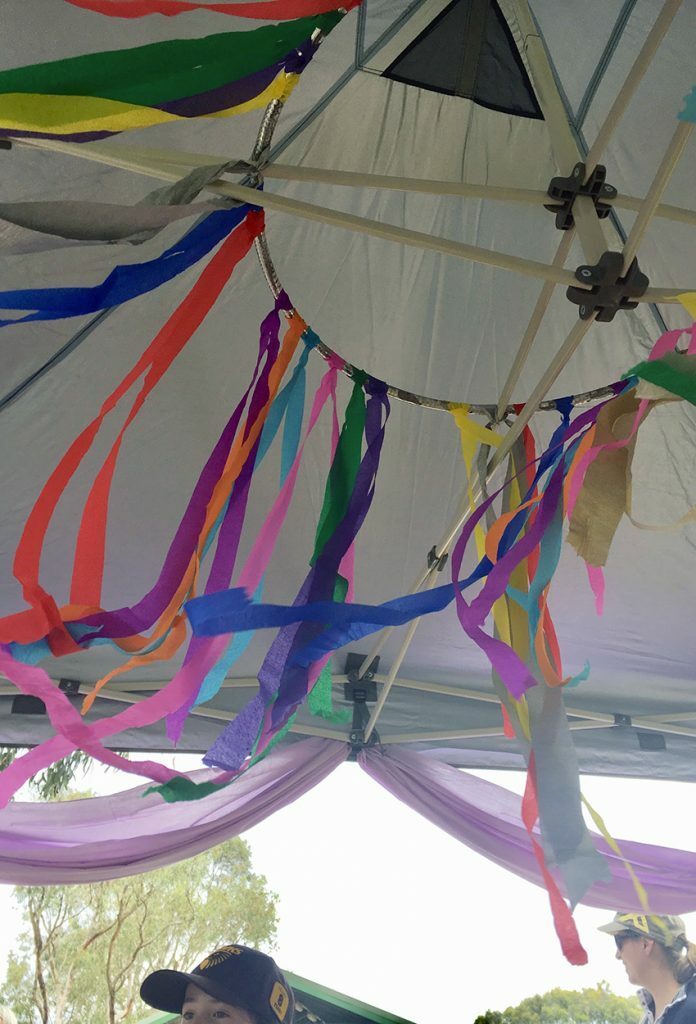 Pippa Adkins
Two years old, Raymond Island. —
"Up colours".
Carys Mahomed
Three years old, Foster. —
"The cows are genius because they come up to me and know things. I can't be in there all by myself or the cows will moo me up".
Juliano Antico
Three years old, Nowa Nowa. —
"Daddy's car in the big aqua".
Dotti Cook
Two years old, Paynesville. —
"Under it all".
Audrey Medhurst
Two years old, Traralgon. —
"Sparkles from the fairies".
Thea Kendall
Three years old, Sale. —
"I was at a birthday party. I was thinking about
cake
".
Thea Kendall
Three years old, Sale. —
"I'm a little kid playing with some toys".